ABOUT
EVENT CANCELLED

Let's celebrate Hari Raya with Aidilfitri Fun Run 2020!
RACE PACK COLLECTION
After consultations with all relevant stakeholders and Government authorities, it is with deep regret that we have to cancel the Aidilfitri Fun Run 2020 due to the uncertainties brought about by the still developing Covid-19 pandemic. 

All registrations will be automatically deferred to AIDILFITRI FUN RUN 2021, which is scheduled to take place on a similar time period as this year, which is after Raya Aidilfitri 2021, pending confirmation from the every venue city and municipal council.
REGISTRATION ENDS AT
24 April, 2020 11:59 PM (GMT +08:00)
EARLY BIRD TICKETS ARE AVAILABLE!
FINISHER MEDAL
ENTITLEMENT
MEDAL DESIGN
TSHIRT DESIGN & SIZE CHART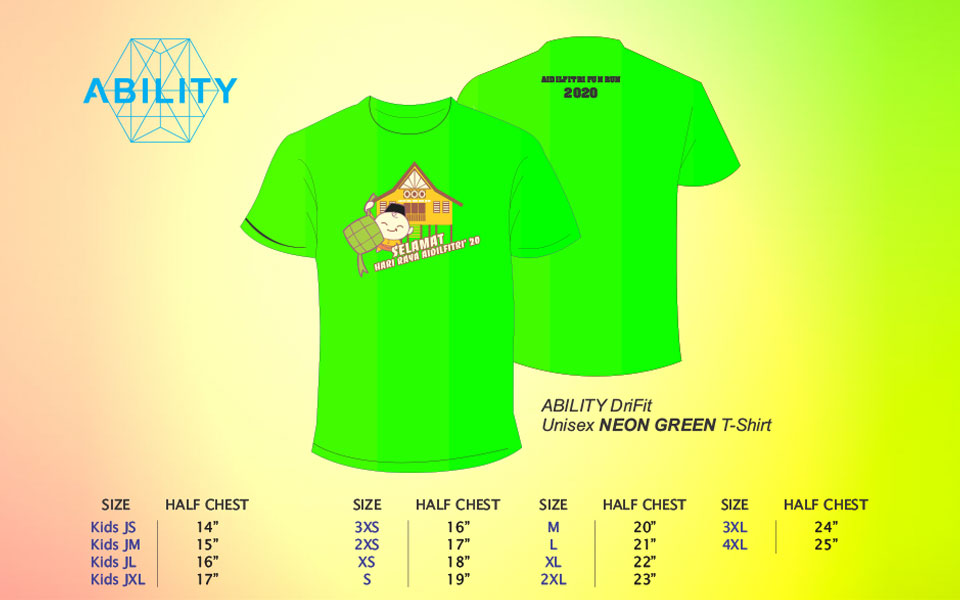 ROUTE MAP
UPDATES
Dear Runners,

After consultations with all relevant stakeholders and Government authorities, it is with deep regret that we have to cancel the Aidilfitri Fun Run 2020 due to the uncertainties brought about by the still developing Covid-19 pandemic. The government has stated that even after the dissolution of the MCO, events involving the public still cannot be approved. This will last for a minimum of 6 months and a maximum of 1 year.The health and safety of our runners, working crew and volunteers, along with spectators and fans will always be our top priority and never compromised. 

All registrations will be automatically deferred to AIDILFITRI FUN RUN 2021, which is scheduled to take place on a similar time period as this year, which is after Raya Aidilfitri 2021, pending confirmation from the every venue city and municipal council. We understand that this is not an ideal situation and will therefore allow you to transfer your registration should you not be able to make next year's event. We will inform you of the mechanics of this process in the second half of 2020. Similarly, all your race entitlements will also be deferred to AIDILFITRI FUN RUN 2021.

This was an extremely difficult decision to make as we know that AIDILFITRI FUN RUN has become an event that  thousands of runners from Sabah, Sarawak, Penang & KL, but this is an unprecedented situation that we face, requiring a similarly unprecedented response. Thank you to all of our runners, volunteers and fans for your support  and understanding at this time. We realise that there will be many questions with regards to the cancellation in the coming days, but we hope that everyone could understanding of this situation.

We implore everyone who is a part of the AIDILFITRI FUN RUN family, and the wider national and global community to do their respective parts in combating the CORONAVIRUS. Stay safe, and together we will all run again!

Regard
My Major Event Management