ABOUT
Carus Sport & Event Sdn Bhd is proud to organize The Batang Sadong Bridge Hybrid Marathon 2021 in celebration of the 5th year anniversary of the opening of The Batang Sadong Bridge. This event is proudly supported by The Ministry of Tourism, Arts & Culture Malaysia. For those who are unable to attend Batang Sadong Bridge Hybrid Marathon physically, they will have the option of participating in the race virtually from their location and on their own between the 20th of November 2021 - 22nd January 2022. 

Let's join Batang Sadong Bridge Virtual Marathon Run 2021!

You will get these entitlements: 
1. Finisher Medal 
2. Finisher Tee

The runs/steps CAN BE ACCUMULATED in multiple runs/steps. 

Please note that postage address only applicable within Malaysia and entitlement will be posted out from 9th December 2021.
REGISTRATION ENDS AT
22 January, 2022 11:59 PM (GMT +08:00)
GET YOUR EARLY BIRD TICKETS NOW!
FINISHER MEDAL
ORGANIZED BY
ENTITLEMENTS
All runners will receive a limited-edition 5th Anniversary Batang Sadong Bridge Hybrid Marathon Race Shirt and Medal.
JERSEY DESIGN & SIZE CHART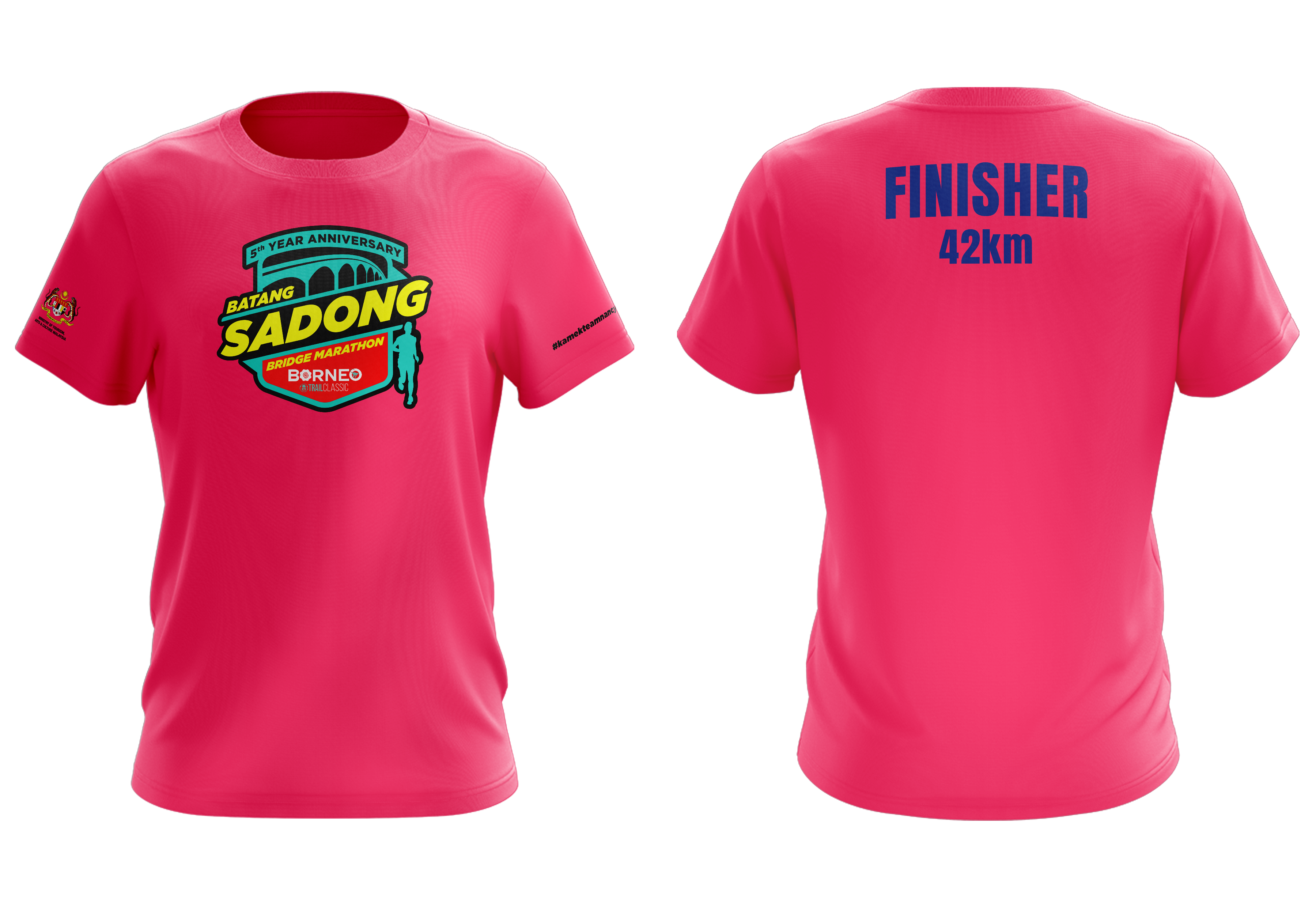 MEDAL DESIGN
RUN SUBMISSION
Please submit your results through JomRun app before 22nd January 2022
FREQUENTLY ASKED QUESTIONS (FAQ)
Q: What is a Virtual Run?
A: Joining a virtual run allows you to run anywhere and anytime before the deadline. Once the run is completed, you just need to send us the proof of your running activity, and the entitlements will be mailed to your address. 😉

Q: When and where do I run?
A: The running period is from 20th November 2021 – 22nd January 2022. In other words, you can run anywhere anytime from 20th November 2021 – 22nd January 2022, and capture the proof of running and submit through JomRun app before 22nd January 2022.
 
Q: What will I get after completing the virtual run?
A:
1. Finisher Medal 
2. Finisher Tee

Q: Can I change my category (3KM/10KM/21KM/42KM) ?
A: No, once the registration is confirmed, there will be no changes, cancellations and refunds.
 
Q: When will I receive my entitlement items?
A: The entitlement items will be sent out from 10th December 2021. 

Q: Can I separate the run distance into a few shorter distance runs?
A: Yes. The runs/steps can be accumulated by multiple runs/steps, which should be completed within the running period (20th November 2021 – 22nd January 2022).
 
Q: How to submit?
A: From 20th November 2021 – 22nd January 2022, use any app or treadmill to track your run.

 You can track your distance by using the following methods:
1. JomRun app (track by km or steps)
2. Connect your JomRun app with Google Fit/Strava/Polar/Apple Health (track by km)
3. Submit your proof of running from any other apps or treadmill in the JomRun app (track by km or steps)
4. Submit the snapshot of your daily steps in JomRun app (track by steps, 1 step = 0.762m, 1000 steps = 762m)