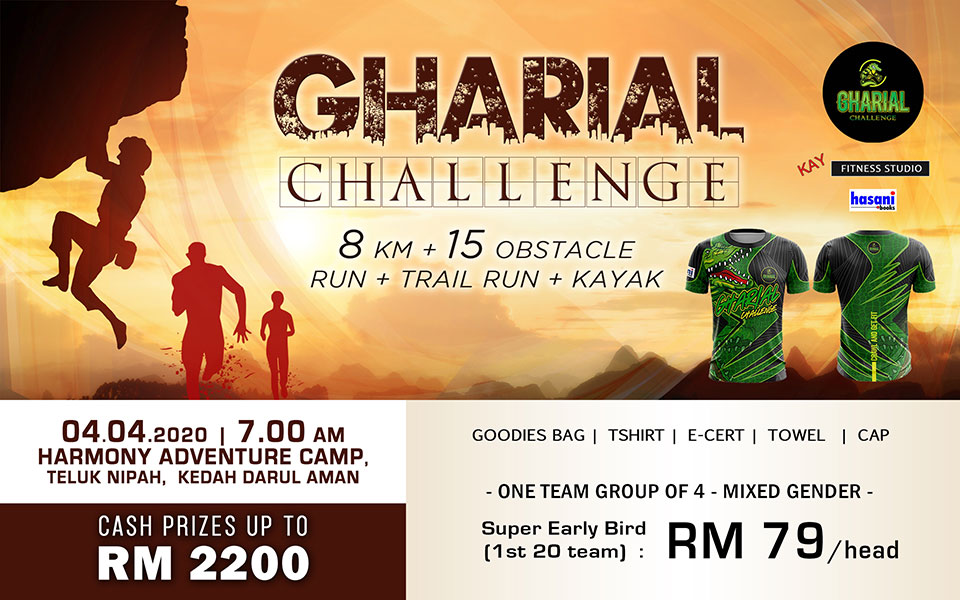 ABOUT
Gharial challenge combines different types of physical activities such as Running, Canoeing, and trail run. In addition, the participants will go through almost 15 types of obstacle which has been planned by the organisers such as tyre flips, 12ft wall, ice water tank,  back crawl,  tire swing hanging, rapid fire and others.
Harmoni Adventure Camp Teluk Nipah,  Sg Petani is a perfect location for the event as it has many facilities to accommodate our activities.

This program will be carried out in groups of four which includes men and women.
RACE PACK COLLECTION
Dukacita dimaklumkan bahawa penganjuran Program Gharial Challenge adalah DIBATALKAN. 

Pihak penganjur akan membuat penyerahan kit larian melalui pos yang akan dibuat bermula dari tarikh 01 Ogos 2020 kepada ketua kumpulan masing-masing. Tiada sebarang pemulangan wang tunai dari pihak penganjur. Sila email butiran berikut kepada [email protected] untuk proses pengeposan.

Nama Penerima Race Kit  :
Alamat Penerima Race kit :
No Telefon Penerima Race Kit : 
Nama Kumpulan:

Sebarang pertanyaan boleh hubungi penganjur melalui whatsapp ke 0194424300 (Kay Fitness Studio).
REGISTRATION ENDS AT
08 March, 2020 11:59 PM (GMT +08:00)
SUPER EARLY BIRD TICKETS ARE AVAILABLE FOR FIRST 20 TEAMS!
CASH PRIZES!
ENTITLEMENT
- Goodies Bag
- T-shirt
- E-cert
- Towel
- Cap
- Medal
TSHIRT DESIGN & SIZE CHART
ROUTE MAP
FLAG OFF TIME
Gharial Challenge
This challenge involves 4 main challenges that are combined into one: RUN, TRAIL RUN, KAYAK AND 15 OBSTACLE

Participants need to complete all tasks in groups except for kayak challenges.

🚩 First obstacle :
Participants will run in groups of 3km from the camp towards the kayak jetty

🚩 Second obstacle
Participants will need to send 2 representatives to carry out the 100meter kayaking assignment

🚩 Third obstacle
Participants will need to travel in groups from the kayak jetty to the Tok Sheikh hills along the rocky shoreline. The challenge distance of the hill is 2km.

🚩 Fourth obstacle
Participants will need to clear the run to the camp within 3km.

🚩 Fifth obstacle
Participants have to solve 15 obstacles in groups.
🐊tyre flip
🐊swing board
🐊6ft wall
🐊balancing wall
🐊monkey bar
🐊tarzan swing
🐊tunnel
🐊12ft wall
🐊Trackwater
🐊tyre swing hanging
🐊ice water tank
🐊back crawl
🐊monkey crawl rope
🐊stairway
🐊rapid fire
Additional Information
ACCOMODATION

-basic dorm accommodation will be provided at the camp,  cost RM10/per bed/night

- All the basic facilities such as toilet,  shower,  surau and dining hall are provided at the camp

- Harmony Adventure Camp is located at rural area,  the nearest homestay are at the kayak jetty (3 mins walk).
GHARIAL CHALLENGE UPDATE
We are committed to the safety and well being of everyone in our race community. We have been following and will continue to follow the recommendations of public health agencies and local authorities on mass gatherings.

With the latest announcement by the Prime Minister of Malaysia, we will be postponing the  GHARIAL CHALLENGE to a later date.

Stay tuned to this page and updates for the latest information as we discuss with the local authorities and stakeholders to find a suitable date for the event. We appreciate your patience in this very dynamic time.
Announcement
NOTIS PEMBATALAN PROGRAM GHARIAL CHALLENGE

Dukacita dimaklumkan bahawa penganjuran Program Gharial Challenge adalah DIBATALKAN. 

Sebelum ini pihak penganjur cuba menangguhkan program ini ke suatu tarikh baru. Namun setelah melihat situasi pandemik ini yang masih aktif dan setelah diambil kira dari segala aspek, pihak penganjur telah mencapai kata sepakat untuk membatalkan program Gharial Challenge inI.

Keselamatan dan kesihatan peserta sentiasa menjadi keutamaan pihak penganjur. Pihak penganjur memohon maaf dan mengucapkan terima kasih diatas sokongan anda.

Pihak penganjur akan membuat penyerahan kit larian melalui pos yang akan dibuat bermula dari tarikh 01 Ogos 2020 kepada ketua kumpulan masing-masing. Tiada sebarang pemulangan wang tunai dari pihak penganjur. Sila email butiran berikut kepada [email protected] untuk proses pengeposan.

Nama Penerima Race Kit  :
Alamat Penerima Race kit :
No Telefon Penerima Race Kit : 
Nama Kumpulan:

Sebarang pertanyaan boleh hubungi penganjur melalui whatsapp ke 0194424300.

Daripada: 
Kay Fitness Studio
NOTIS PEMBATALAN PROGRAM GHARIAL CHALLENGE
Dukacita dimaklumkan bahawa penganjuran Program Gharial Challenge adalah DIBATALKAN. 

Sebelum ini pihak penganjur cuba menangguhkan program ini ke suatu tarikh baru. Namun setelah melihat situasi pandemik ini yang masih aktif dan setelah diambil kira dari segala aspek, pihak penganjur telah mencapai kata sepakat untuk membatalkan program Gharial Challenge inI.

Keselamatan dan kesihatan peserta sentiasa menjadi keutamaan pihak penganjur. Pihak penganjur memohon maaf dan mengucapkan terima kasih diatas sokongan anda.

Pihak penganjur akan membuat penyerahan kit larian melalui pos yang akan dibuat bermula dari tarikh 01 Ogos 2020 kepada ketua kumpulan masing-masing. Tiada sebarang pemulangan wang tunai dari pihak penganjur. Sila email butiran berikut kepada [email protected] untuk proses pengeposan.

Nama Penerima Race Kit  :
Alamat Penerima Race kit :
No Telefon Penerima Race Kit : 
Nama Kumpulan:

Sebarang pertanyaan boleh hubungi penganjur melalui whatsapp ke 0194424300.

Daripada: 
Kay Fitness Studio