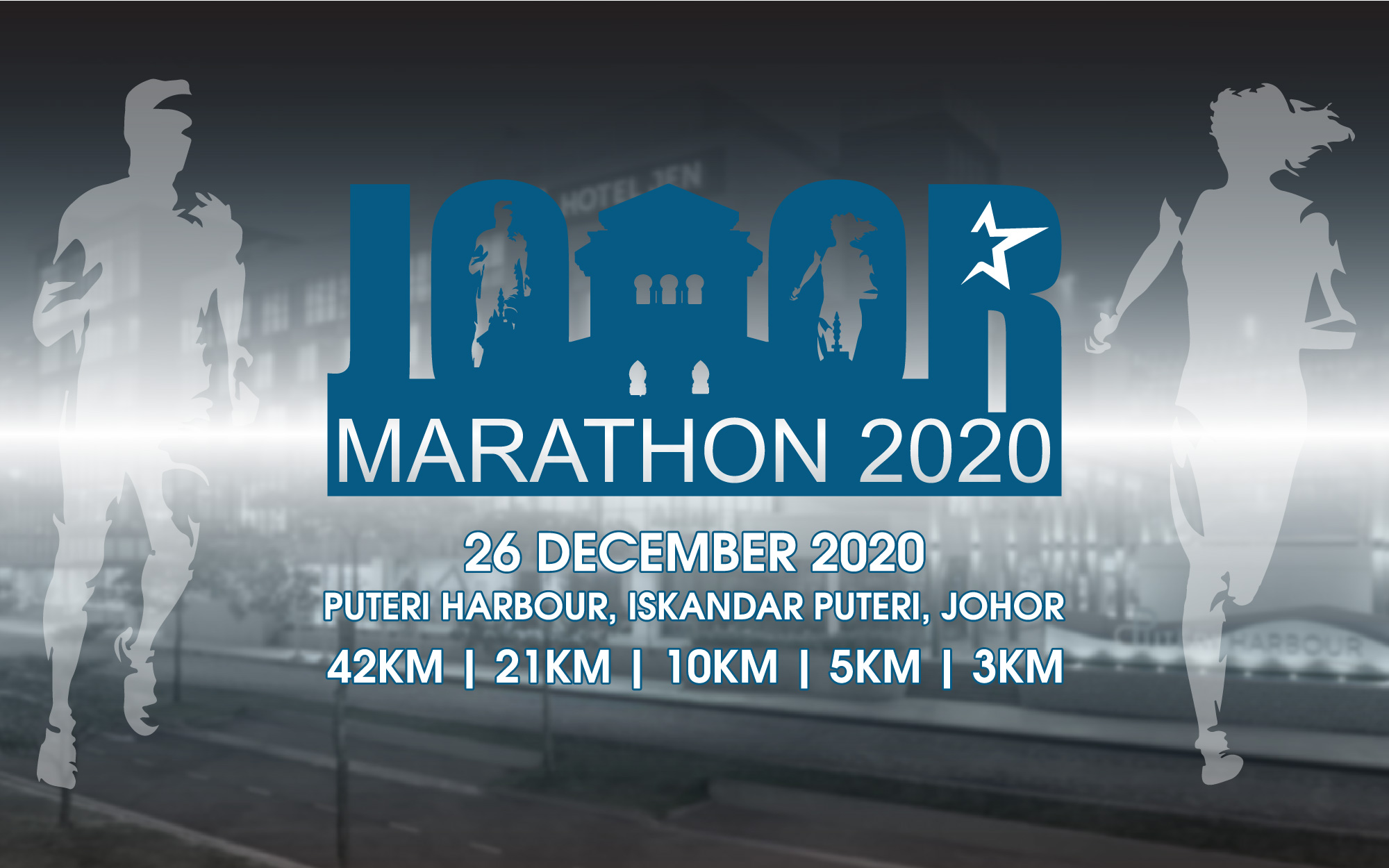 About
JOHOR MARATHON 2020 (#JOHORTHON2020) is dedicated as an ANNUAL and SIGNATURE sports tourism running event designated to promote the State of Johor to the world. Featuring spectacular courses in iconic destinations, JOHOR MARATHON 2020 (#JOHORTHON2020) events focus on delivering the race of a lifetime to athletes of all ages and abilities, and creating a memorable spectator experience that captures all the excitement and emotion of this inspirational sport. JOHOR MARATHON 2020 (#JOHORTHON2020) opens Running race categories with 3KM Leisure Run, 5KM Fun Run, 10KM Competitive Run, 21KM Half Marathon and 42KM Full Marathon distance race to men and women.

The courses will take runners around the Puteri Harbour and Iskandar Puteri area which boasts its newly-built township. Runners will also pass along undulating roads with low rise and fall that will offer runners a more exciting running experiences and the chance to clock better times. A double loop course, along flat, two-lined streets that surround Puteri Harbour and Iskandar Puteri as well Danga Bay new tourism centre featuring a collection of luxury hotel and resort surrounded by natural green landscapes ideal for outdoor sports. The race will start and end at Puteri Harbour, Iskandar Puteri where fans and family will be waiting to cheer their loved ones to the finish line.
Race Pack Collection
The new race kit collection date will be announced soon.
Registration Ends at
15 November, 2020 11:59 PM (GMT +08:00)
Fee:
Rewards
ENTITLEMENT
TSHIRT DESIGN & SIZE CHART
FLAG OFF TIME & CUT OFF TIME
ROUTE MAP
EVENT TENTATIVE
ANNOUNCEMENT
Dear Participants & Runners,
After many consultations with the appropriate government authorities, health experts and our stakeholders and partners, it is with deep sadness and regret that we have decided to cancel/postpone JOHOR MARATHON 2020 (Formerly know as Southern Twincity Marathon), scheduled for November 2020 due to the uncertainties brought about by the Covid 19 pandemic.

The health and safety of our participants and runners, working crew and volunteers, along with spectators and fans will always be our top priority and never compromised.

JOHOR MARATHON 2020 has been rescheduled to 26 DECEMBER 2020. This was an
extremely difficult decision to make as we know that JOHOR MARATHON 2020 is the second edition of the State of Johor national event that thousands of participants and runners look forward to be part of, but this is an unprecedented situation that we face, requiring a similarly unprecedented response.

Thank you to all of our participants and runners, volunteers and fans for your support and understanding at this time. We implore everyone who is a part of the JOHOR MARATHON family, and the wider national and global community to do their respective parts in combating the Covid-19. Stay safe, and together we will all run again!

Sincerely,
Activenation Asia
ANNOUNCEMENT
Dear Participants,

After receiving the latest update regarding the extension of the Recovery Movement Control Order (RMCO) and consultations with the relevant government authorities and our stakeholders and partners, it is with deep sadness and regret that we have decided to cancel/postpone JOHOR MARATHON 2020. The health and safety of our participants and runners, working crew and volunteers, along with spectators and fans will always be our top priority and never compromised.

As a local business, we make every effort to procure products and services for our event locally and sustainably. We have a NO REFUND POLICY in order to preserve our ability to pay our business partners for the year-round work that goes into planning and producing the race, and to protect our employees, even in the event of a major disruption like the one we're all experiencing. Therefore all individual and group registrations will be automatically deferred to JOHOR MARATHON 2021, which is scheduled to take place on 11 DECEMBER 2021, pending confirmation from the city council. Similarly, all your race entitlements will also be deferred to JOHOR MARATHON 2021.

This was an extremely difficult decision to make as we know that JOHOR MARATHON is the second edition of the State of Johor national event that thousands of participants and runners look forward to be part of, but this is an unprecedented situation that we face, requiring a similarly unprecedented response. 

Thank you to all of our participants and runners, volunteers and fans for your support and understanding at this time. We implore everyone who is a part of the JOHOR MARATHON family, and the wider national and global community to do their respective parts in combating the Covid-19. Stay safe, and together we will all run again!


For further information please email to;
[email protected]



Thank you.
ACTIVENATION ASIA