ABOUT
EVENT CANCELLED
RACE PACK COLLECTION
NOTICE OF CANCELLATION MOONLIGHT NEON RUN 2020 – PERAK

Due to COVID-19 outbreak in Malaysia, we felt unhappy but to cancel the Moonlight Neon Run 2020 - Perak scheduled on 11th April 2020 (Saturday).

We are adviced to postpone the race kit collection. We will inform new date and will inform to participants to collect by May 2020.If you wish to get your item by courier, kindly WhatsApp 012-2324008 but there is a postage fee.

Lastly, we thank for all of the understanding and support. We wish everyone to be healthy. Aloha is always in our heart !
REGISTRATION ENDS AT
28 March, 2020 11:59 PM (GMT +08:00)
SUPER EARLY BIRD TICKETS ARE AVAILABLE!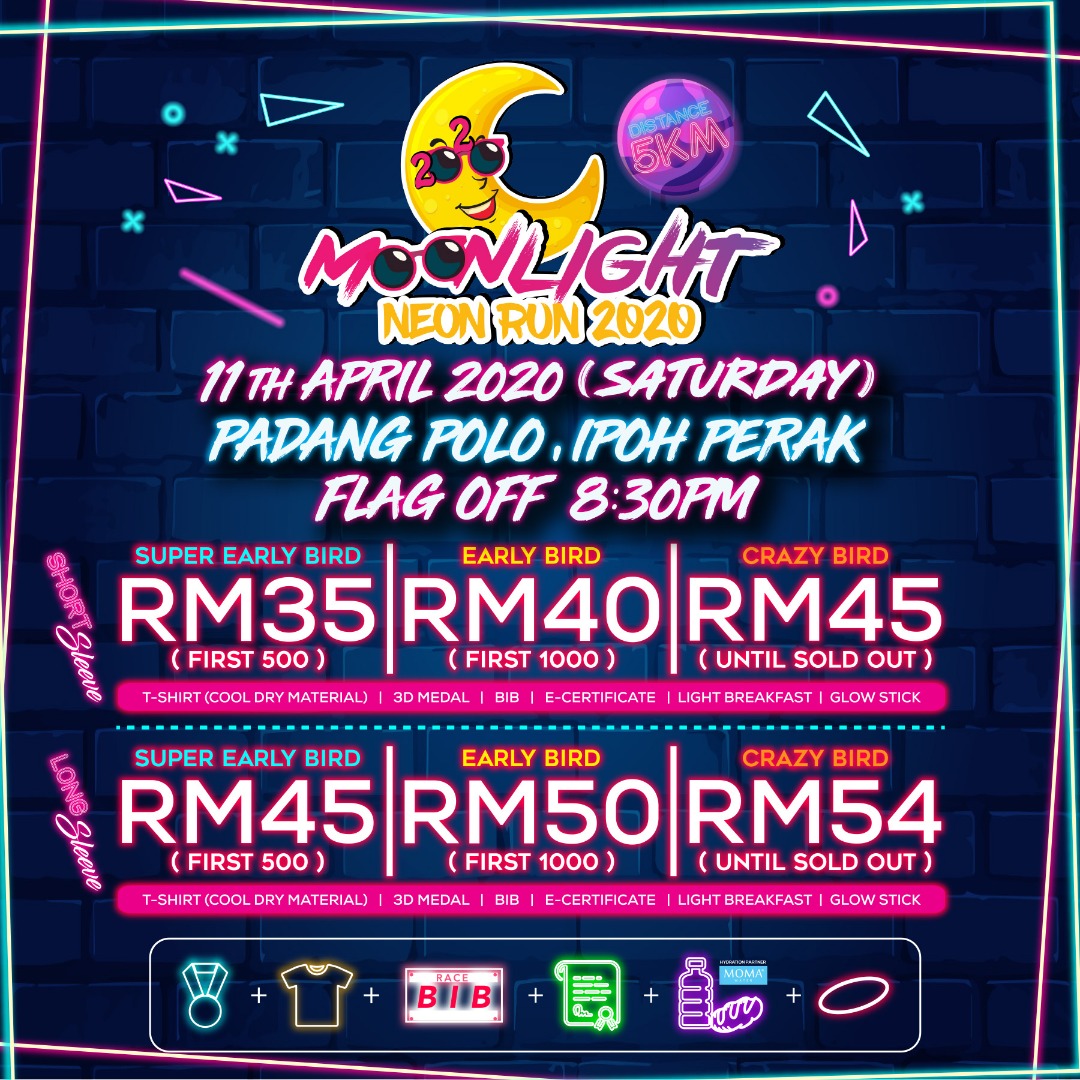 FINISHER MEDAL
ENTITLEMENT
1) T-shirt (Cool dry material)
2) 3D Medal
3) Bib 
4) E-certificate
5) Glowstick
6) Light Breakfast
MEDAL DESIGN
TSHIRT DESIGN & SIZE CHART
IMPORTANT ANNOUCEMENT
NOTICE OF CANCELLATION MOONLIGHT NEON RUN 2020 – PERAK

Due to COVID-19 outbreak in Malaysia, we felt unhappy but to cancel the Moonlight Neon Run 2020 - Perak scheduled on 11th April 2020 (Saturday).

We are advice to postpone the race kit collection because authorities ask us to get approval by Kementerian Kesihatan Malaysia (KKM) & Polis DiRaja Malaysia (PDRM) since we travelling from Kuala Lumpur to May. We will inform new date and will inform to participants to collect by May 2020.

If you wish to get your item by courier, kindly WhatsApp 012-2324008 but there is a postage fee.

Lastly, we thank for all of the understanding and support. We wish everyone to be healthy. Aloha is always in our heart!

#AlohaRun2020 #Fanatic4Event #HealthComeFirst #StaySafe

Regards,
Fanatic4Event Team
NOTICE OF POSTAGE ALOHA RUN & MOONLIGHT NEON RUN
Aloha Ipoh, Aloha Melaka, Moonlight Neon Run Ipoh.

All Race Kit Postage will be postpone to a new date after Movement Control Order (MCO/PKP).

We apologize to all but current situation MCO/PKP now, all factory are close during this COVID-19 time until further notice. Once are back open we will start getting our t-shirt and can start to post.

All medal we have receive but t-shirt are not able to proceed due to situation of MCO in Malaysia.

Thank you in advance.

Stay Home, Break The Chain and Stay Healthy.

Love,
Fanatic4Event Team