ABOUT
Let's join Nibong Tebal Happy Panda 5KM Fun Run!

Participants will be entitled to a medal as long as they,

1. Have their bib pinned on their shirt
2. Completed the 5KM run

As this is a fun run, the time taken to complete the run will not be taken in. Hence, participants may run at their own pace. 

Medals will be given ONLY to participants who have completed the run and crossed the finishing line. Collection of medal on behalf of others(e.g : family members or friends) who are not able to run or attend will NOT be allowed under any circumstances.
RACE PACK COLLECTION
EVENT CANCELLED

With your safety and health as our utmost priority, we deem that the current condition is not conducive for us to proceed with the run. We regret to announce that the Nibong Tebal Happy Panda 5KM Fun Run is cancelled.

Please be reminded that all participants must collect their race kit on the date as scheduled before:
Date: 3 April 2021 (Saturday)
Time: 10am-5pm
Venue: Mydin Mall Parit Buntar (Level 1)

Please bring your E-ticket in JomRun app > 'Me' tab > 'E-ticket' and show it to our staff in order to collect your kit. If you are collecting on behalf of your friends/family member, please bring their E-ticket in softcopy.

To request for posting service at minimum fee, kindly drop Encik Azman a whatsapp at 012-478 2140

We appreciate your support throughout this challenging situation. We apologize for any inconveniences caused, but we hope to see you soon! Stay hydrated and be safe. 😇

Sincerely, 
JomRun & Corporate Hero
REGISTRATION ENDS AT
10 March, 2020 11:59 PM (GMT +08:00)
SUPER EARLY BIRD TICKETS ARE AVAILABLE!
FINISHER MEDAL
ENTITLEMENT
1) T-Shirt 
2) Bib Number 
3) Finisher Medal 
4) Light Refreshments
T-SHIRT DESIGN & SIZE CHART
MEDAL DESIGN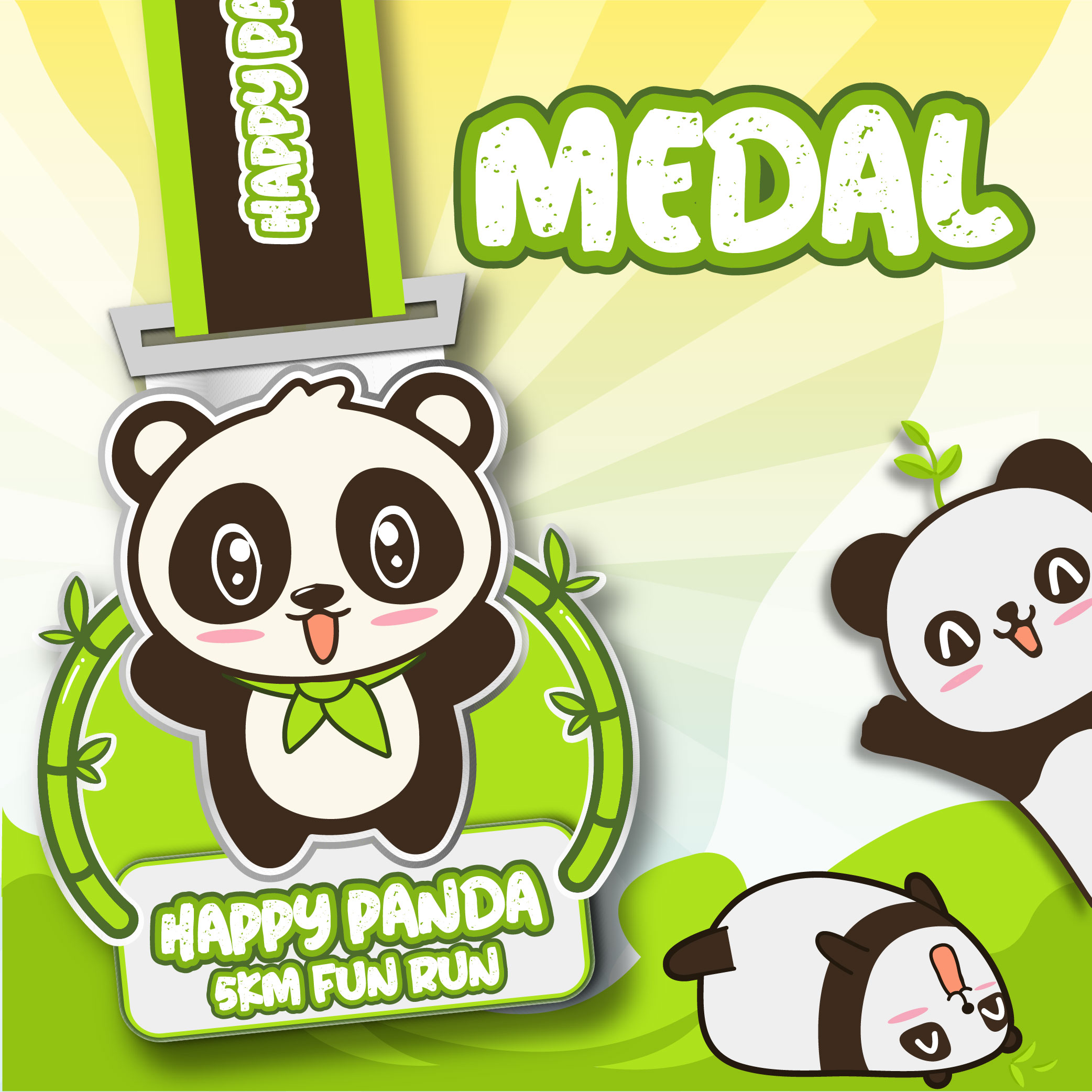 How To Get Medal?
OTHER INFORMATION
Join Panda Run for this beautiful AR Medal😍
📣Official Announcement Nibong Tebal Happy Panda 5KM Fun Run 📣
The novel coronavirus (2019-nCoV) is affecting 28 countries and territories around the world, including Malaysia. Unfortunately, the situation is showing no clear sign on improvement. In regard with the worsening situation by this COVID-19, organizers are advised to avoid activities with large crowd. 😷

With your safety and health as our utmost priority, we deem that the current condition is not conducive for us to proceed with the run. We regret to announce that the Nibong Tebal Happy Panda 5KM Fun Run is cancelled.

In regard with the restricted movement order starting from 18th March (Wednesday) to 31st March 2020 (Tuesday) to deal with the COVID-19 situation, the race kit collection for Nibong Tebal Happy Panda 5KM Fun Run will be postponed until further notice. 🤚🏻

We are currently working on the approvals and we will update you as soon as we can, in JomRun app, website and email notification. 🔔

You will be collecting the following items:
✅ Event T-shirt
✅ Running bib 
✅ Medal 

Please bring your E-ticket in JomRun app > 'Me' tab > 'E-ticket' and show it to our staff in order to collect your kit. If you are collecting on behalf of your friends/family member, please bring their E-ticket in softcopy.

All participants are entitled with 20% off for the next event in Pink Swan 5KM Fun Run. The date, time and venue will be advised soon.

We appreciate your support throughout this challenging situation. We apologize for any inconveniences caused, but we hope to see you soon! Stay hydrated and be safe. 😇 As Malaysia citizens, let's make the safety and health of our families and our communities the first priority. Stay at home, avoid heading out, train at home and come back better! 💪🏻🏃🏻‍♀🏃🏻‍♂

Sincerely,
JomRun & Corporate Hero
LATEST ANNOUNCEMENT
The novel coronavirus (2019-nCoV) is affecting 28 countries and territories around the world, including Malaysia. Unfortunately, the situation is showing no clear sign on improvement. In regard with the worsening situation by this COVID-19, organizers are advised to avoid activities with large crowd. 😷

With your safety and health as our utmost priority, we deem that the current condition is not conducive for us to proceed with the run. We regret to announce that the Nibong Tebal Happy Panda 5KM Fun Run is cancelled.

Please be reminded that all participants must collect their race kit on the date as scheduled before:
Date: 3 April 2021 (Saturday)
Time: 10am-5pm
Venue: Mydin Mall Parit Buntar (Level 1)

Please bring your E-ticket in JomRun app > 'Me' tab > 'E-ticket' and show it to our staff in order to collect your kit. If you are collecting on behalf of your friends/family member, please bring their E-ticket in softcopy.

To request for posting service at minimum fee, kindly drop Encik Azman a whatsapp at 012-478 2140

We appreciate your support throughout this challenging situation. We apologize for any inconveniences caused, but we hope to see you soon! Stay hydrated and be safe. 😇

Sincerely, 
JomRun & Corporate Hero