ABOUT
EVENT CANCELLED

In 2019, the tiger population has dropped dramatically and the tiger is extinct. Only about 200 tigers were identified in Malaysia last year compared 3, 000 before this. Tiger is one of the most powerful  animals in the world. Tiger is a symbol of our country's courage and sportsmanship. The extinction of the tiger has inspired the organizer of the Rimau Fun Run 2020.

Besides that, this event will foster healthy lifestyles through running. Rimau fun run is a charity program  to raise funds. Part of the funds will be donated to related organizations . Let's join our charity event, rimau fun run 2020!
RACE PACK COLLECTION
Event is cancelled due to COVID-19, participant can collect race kit and medal on collection day that will be announced soon.

Date: TBC
Time:9.00am-5.00pm
Place:Creative Design Centre(CDeC),Politeknik Ibrahim Sultan

Sebarang pertanyaan boleh hubungi : 
010-506 5203 - Hazirah
011-27628642 - Aina
atau boleh emailkan ke [email protected]
REGISTRATION ENDS AT
12 March, 2020 11:59 PM (GMT +08:00)
EARLY BIRD TICKETS ARE AVAILABLE!
FINISHER MEDAL
ENTITLEMENT
- T-shirt
- Medal
- Bib
- Woven bag
- E-certificate
- Refreshment
MEDAL DESIGN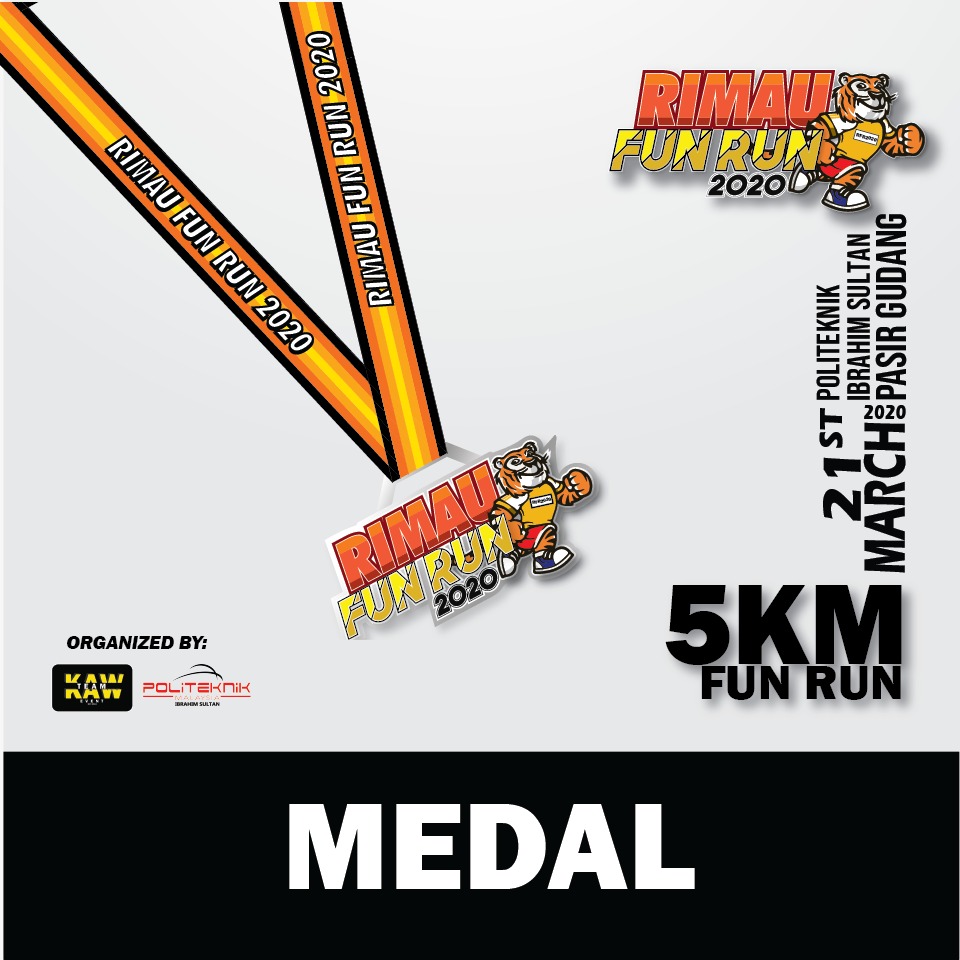 TSHIRT DESIGN & SIZE CHART
ROUTE MAP
FLAG OFF TIME
Announcement
For all information, the Rimau Fun Run 2020 has been changed from the Bukit Layang-Layang Park to the  politeknik ibrahim sultan in response to the suspension of large-scale activities in public places by the Majlis pembandaran Pasir Gudang Johor

We apologize for any inconvenience this may have caused.
Announcement:
RIMAU FUN RUN yang dijadualkan berlangsung pada 21/3/2020, di Politeknik Ibrahim Sultan adalah DIBATALKAN atas faktor keselamatan dan kesihatan kerana pandemik COVID-19 yang melanda negara pada masa ini.

Di atas nasihat Ketua Pengarah Jabatan Pendidikan Politeknik dan Kolej Komuniti, serta Pengarah Politeknik Ibrahim Sultan agar mematuhi arahan dikeluarkan Kementerian Kesihatan Malaysia, maka program ini dibatalkan demi keselamatan dan kesihatan orang awam.

Walaubagaimanapun, kepada semua peserta yang telah mendaftar, tarikh race kit collection akan diberitahu kemudian

Terima kasih di atas kerjasama anda. Segala kesulitan amat kami kesali.

Sebarang pertanyaan boleh hubungi : 
010-506 5203 - Hazirah
011-27628642 - Aina
atau boleh emailkan ke [email protected] 

Sekian, terima kasih.