About
Let's join Run For The Challenge!

We are adding some fun to this event! Get the free gift and medal when you complete your secret task/challenge! 

Entitlements:
1. Secret Gift
2. Medal 
3. E-cert
4. E-bib

The warm-up game will be held from the 15th September 2021 to 30th September 2021. 

Entitlements:
1. E-cert 
2. E-bib
Registration Ends at
31 October, 2021 11:59 PM (GMT +08:00)
Fee:
Rewards
ENTITLEMENT
TYPES OF CHALLENGE
WARM-UP GAME
EVENT INFO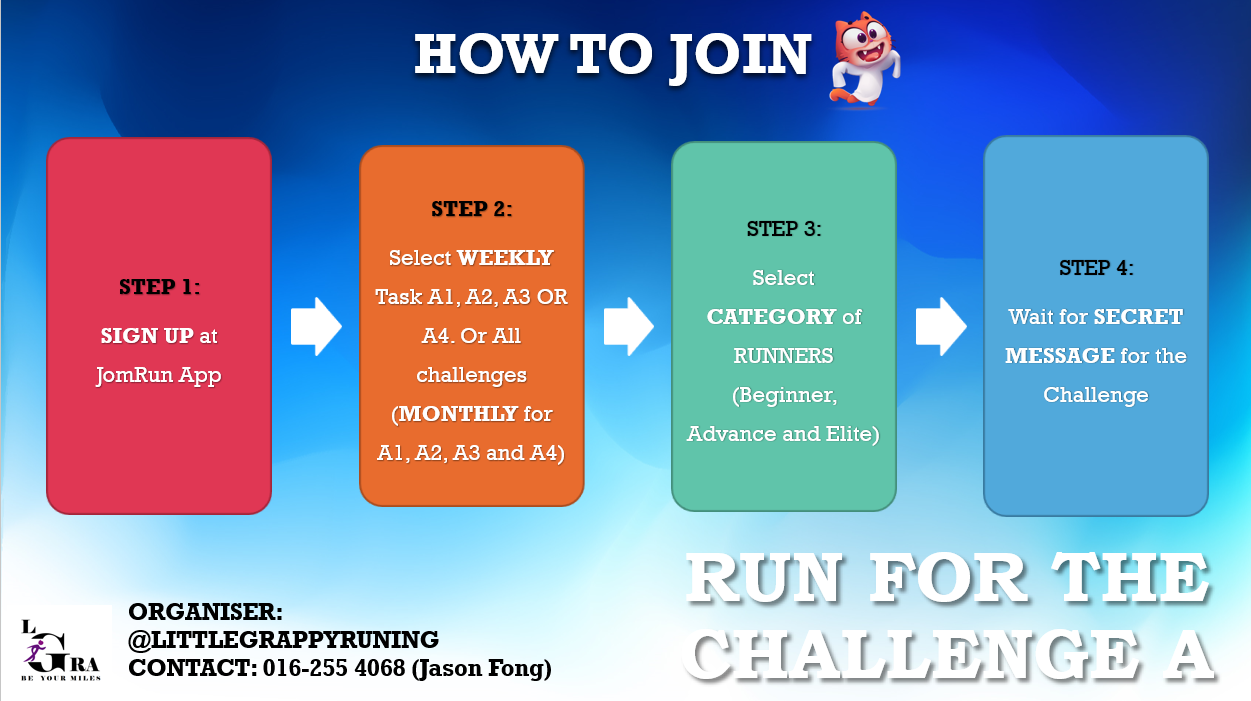 FREQUENTLY ASKED QUESTIONS (FAQ)
Q: What is the challenge?
A: The challenge is kind of distance or timing Game. 

Q: How do we know what task to be completed? 
A: The organizer will inform you of the challenge via WhatsApp. You are required to record your task via running apps or watch. 

Q: What is the difference between Challenge A1, A2, A3, and A4? 
A: The different categories will have different challenges. Weekly A1 might test on distance games. Weekly A2 might test on timing game. It will remain secret until the completion of registration.
  
Q: What are the types of runners refer to? 
A: Types of runners refer to the types of experience in running. Even you and your friends sign up at Category Weekly Task A1, both of you might receive different challenges since you are indifferent years in experience of running. The purpose is to serve the right challenge for the right people.