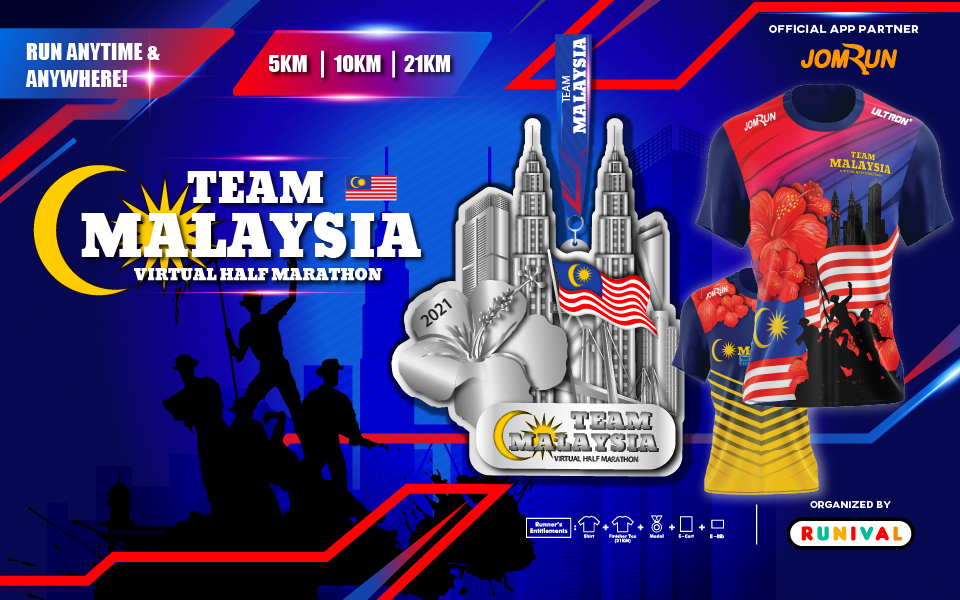 About
Come join our Team Malaysia Virtual Half Marathon!

You will get these entitlements mailed directly to your doorstep:

1. Finisher Medal 

2. Runner Tee

3. Finisher Tee (21KM only)

It is a reason to prevent mass gatherings but it shouldn't be an excuse to stop you from running! 

The runs/steps CAN BE ACCUMULATED in multiples runs/steps. Therefore we encourage you to complete the run at home 🏠

Please note that, postage address only applicable within Malaysia and entitlement will be posted from 22nd April 2021.
Registration Ends at
30 April, 2022 11:59 PM (GMT +08:00)
Fee:
Rewards
ENTITLEMENT
1. Runner Tee
2. Finisher Tee (21KM only) 
3. Finisher Medal
4. E-cert 
5. E-bib
T-SHIRT DESIGN & SIZE CHART
MEDAL DESIGN
E-CERT DESIGN
VIRTUAL RUN INFO
RUN SUBMISSION
Please submit your results through JomRun app before 30th April 2022.
FREQUENTLY ASKED QUESTIONS (FAQ)
Q: What is a Virtual Marathon?
A: Joining a virtual marathon means that you can run anywhere, anytime (even on a treadmill) before the deadline. Once the run is completed, you just need to send us the proof of your running activity, and the entitlements will be mailed to your address. 😉
 
Q: When and where do I run?
A: The running period is from 22nd March 2021 – 30th April 2022. On the other words, you can run anywhere anytime from 22nd March 2021 - 30th April 2022, and capture the proof of running and submit through JomRun app before 30th April 2022.
 
Q: What can I get after completing the virtual run?
A:
Finisher Medal 
Runner Tee
Finisher Tee (21KM only)

Q: Can I change the details I filled in during registration?
A: T-shirt size cannot be changed. To change other details such as mailing address, please inform us at [email protected]

Q: Can I change my category (5km/10km/21km) ?
A: No, once the registration is confirmed, there will be no changes, cancellations and refunds.
 
Q: When can I receive my entitlement items?
A: The entitlement items will be sent out from 22nd April 2021, after your submission. 

Q: Can I separate the run distance into a few shorter distance runs?
A: Yes. The runs/steps can be accumulated by multiple runs/steps, which completed within running period (22nd March 2021 - 30th April 2022).
 
Q: How to do submission?
A: Within 22nd March 2021 - 30th April 2022, use any apps which can track your runs, screenshot the result which shows the date and distance/steps as your proof of running and submit through JomRun app before 30th April 2022.
 
You can track your distance by using the following methods:
1. Running outdoor with GPS (track by KM)
2. Running indoor with treadmill (track by KM)
3. Steps counters (1 step = 0.762M, 1,000 steps = 762M)